Until recently, addressing the mental health concerns in soldiers has not been a priority for our country.
Finally, these important veteran's issues of traumatic brain injury (TBI), post-traumatic stress disorder (PTSD), chronic pain issues and depression are becoming increasingly important.
According to a 2011 Straits-Troster study, almost 40% of our returning troops suffer from depression, anxiety and PTSD. Not only do these poor mental health conditions negatively impact the lives of the veterans and their families, they can also increase the likelihood of unemployment, poverty, domestic violence, homelessness, and suicide.
In evaluating the need and benefits of Equine Therapy and Learning for these groups, Founder and Executive Director Shannon Knapp points to a pilot study at Fort Carson, CO. The study showed that equine therapy and learning reduced the risk of violence by veterans by 24%. Even more remarkable, the rate of suicide was reduced by 62%. Through the work of Heart of Horse Sense, Knapp is seeking the same level of dramatic results as the Fort Carson Pilot Study.
In order to never have to say "No" to a veteran who has made the effort to ask for help, our annual veteran service budget goal is approximately $55,000. Currently Heart of Horse Sense (HOHS) supports Veterans in the following ways:
Individual Therapy
Since 2014, HOHS has funded more than 25 veterans & their families. Each veteran receives a series of therapy sessions. We aim to support 6-10 veterans a year in individual therapy.
Groups
Over 1800 WNC veterans have received equine services underwritten by HOHS to date.
On average, there is demand for one 2-hour group almost every week, addressing PTSD, Military Sexual Trauma, Homeless Vets, Moral Injury and more.
Groups come from the VA, ABCCM VRQ, and Steadfast House among others, with hope that the money will be there when the group shows. Veterans also "walk-on" from the community for monthly "Fall-In Fridays", an open door event usually the first Friday of the month from 10-12.
Immersions and Day-long Retreats:
To date we've supported almost 10 Immersions (4 day/3 night onsite immersions) & 12+ Day-long Retreats, for Combat Vets, Women Vets, Veteran Couples, Caregivers, and LGBTQ Veterans.
We Can Help
Post Traumatic Stress Disorder (PTSD) and Traumatic Brain Injury (TBI) are life-changing injuries affecting so many of our veterans from their work defending our country.
Facts
About 300,000 Iraq and Afghanistan war veterans suffer from PTSD or major depression, and about 320,000 may have experienced at least a mild concussion or TBI in combat. - RAND Corp. study released in 2008.
In 2008, one in four veterans were diagnosed with PTSD, and some experts believe this could increase to one in two by 2011 years end. - PTSD Foundation of America
11-20% of Veterans of the Iraq and Afghanistan wars; as many as 10% of Gulf War; and about 30% of Vietnam Veterans have PTSD. - Dept of Veterans Affairs
Untreated mental health problems among returning troops will cost the nation up to $6.2 billion over two years in medical costs, lost productivity, and lives lost to suicide. - A RAND Corporation survey, Invisible Wounds of War: Psychological and Cognitive Injuries, Their Consequences, and Services to Assist Recovery
While there is no cure for PTSD, early identification and treatment of PTSD symptoms may lessen the severity of the condition and improve the overall quality of life for veterans suffering from this condition. - Veteran's Newsroom Statistics
Contributing To Our community
Equine Assisted Psychotherapy & Learning have been shown to help veterans deal with the effects of PTSD and other military-service-related injuries.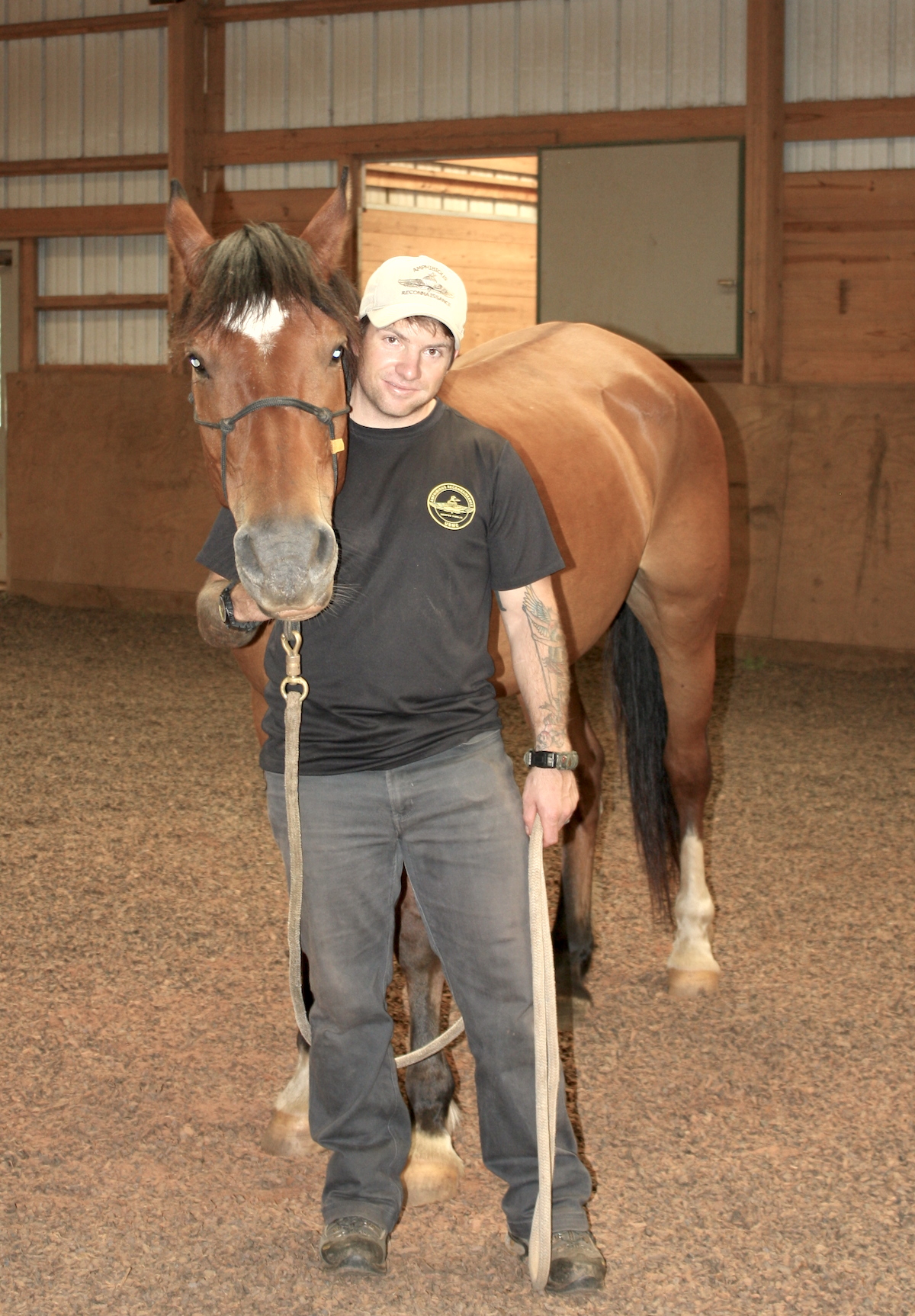 Equine Therapy / Animal-assisted Therapy has shown to be effective in treating patients, including combat veterans, with PTSD, depression, anxiety, attention-deficit/hyperactivity disorder, conduct disorders and other chronic mental illnesses. - Journal of the American Medical Association
More than 30 VA Medical Centers are participating in Equine Assisted Activities (EAA) programs all around the US. - Supervisory Recreation Therapist Department of Veterans Affairs.

Horses are highly reactive and mimic human emotions - requiring calm and non-reactive communications which promotes emotional awareness, emotion regulation, self-control, and impulse modulation. Working with horses in a therapeutic setting offers instant and constant feedback to participants, requires physical strength and balance, and is highly motivational – combining to make an exceptionally effective rehabilitation environment.
"
All of the participants' symptoms were reduced as a result of the program, but what was also evident was the accelerated rate at which this occurred.
Dr. Rusty Reynolds, VA Medical Center Psychologist